Our collections are available from size M to 3XL and sizes 10 to 24 depending on the style; Each collection corresponds to a specific cutting schematic to help you make an informed choice based on your appearance. We accept special orders with your individual measurements for a small fee (sleeve lenghor non standard clothing to our design); contact us for details info@pierrepoisson.com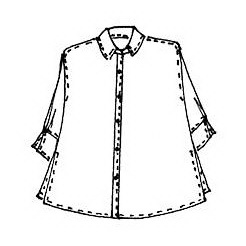 Bella: Slighly droppen shoulder style, still A-line but not as mush as the Marla style. Closer to the body but still offering a loose fit. This base is very versatile, fit wise.
Available size: M to 3XL
Marla: Trapeze style, better known as A line shape. Regular shoulder with a lot of ease at hips level. This style fit very well women's with smaller shoulders and more voluptuous hips. Very chic and comfortable at same times.
Available size: M to 3XL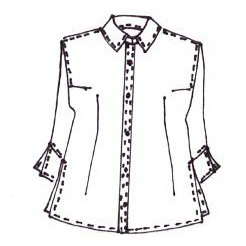 Dalhia: Fitted top with back and front dards. Regular shoulder and higher arm hole. Perfect fit for those who want to show their curves. It is a tighter style but not crazy tight.
Available size: 10 to 20
Flora: Jacket base style. Regular shoulder. One button top just a little bit under the bust. That style dress pretty well women's with a bigger bust.
Available size: 10 to 22
Karina: Swing coat, vintage look (I love Lucy) Big shawl collar, regular shoulder, no closure style. Between a cape and a coat. Super chic.
Available size: M to 3XL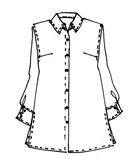 Monica: Semi fitted style that gives a straighter look with dards in the back only. Regular shoulders. Fitted but not as much as the DALHIA style. Really give the look of a straight top with a bit of fitting in the back only.
Available size: 10 to 20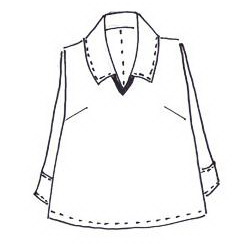 Rosa: "V" neck style tunic or over the head shirt, regular shoulder, bust dard, 7/8 sleeve. Straight style, lightly bigger at hips.
Available size: 10 to 22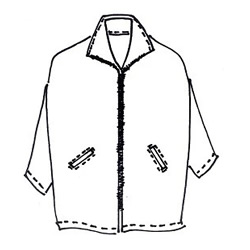 Suzanna: Style with a deep dropped shoulder, kimono kind of arm hole. Straight high collar. A lot of ease at bust level and upper arm.